Cutting Machine
Pipe Plasma Cutter
This is a pipe cutting system that cuts the pipe into any desired sizes, built to be PLASMA or SAW type depending on the cutting method.
Efficiency-wise PLASMA Cutter is better, yielding superior productivity and is economical. Well above other companies cutting mechanisms, this is presently in the process of patenting.
Superiority of our system shows when the quality of the cutting side of the pipe is emphasized.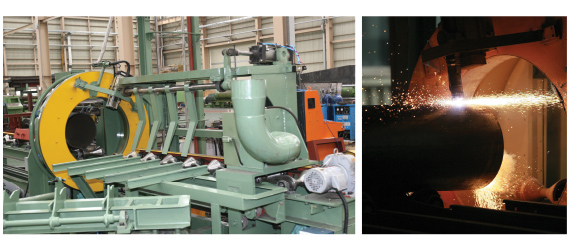 Heat Treatment Furnace
Compatible for many characteristics of Special Steel, applied suitable heating and cooling requirements to engineer metal components to best fit the requirement of each product.
Heat Treatment Furnace(Quenching & Tempering)
Heat treatment to enhance the hardness of the CYLINDER; keeps the temperature of the furnace unchanged to apply the same affect to many products and generate fine products.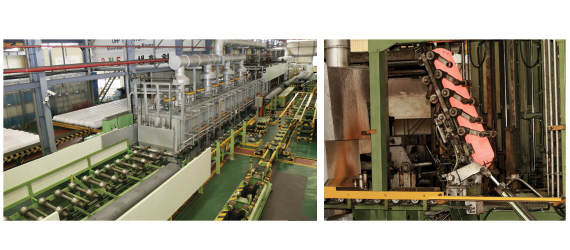 HOT Spinning Machine
This is the Direct Heating SPINNING MACHINE, which heats the pipe directly and molds the neck and the bottom parts.
It is a mechanism to seam the head/lower parts of the heated container done by the High Frequency Heater, namely the center piece of the High Pressure Cylinder production, which requires highly-developed and detail-oriented technology.
It maintains the suitable temperature when working with mixed gas and automatized the LOADING/UNLOADING system for economic and reducing time pruposes.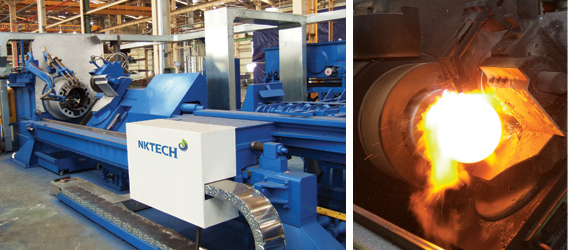 Neck Cutter & Hole Punching Machine
High Pressure Cylider's Neck Cutter&Hole Punching machine unmanned&automatic system.
The exisiting system contains the neck cutter and hole punching machine as two separate gears, but NKTECH Co.,Ltd. successfully combined two bodies in one, economical, convenient, and yields high productivity.
Regardless of the Cylinder type, it is designed for mass production, not only enabling hole punching right after neck cutting, but also enhancing the quality of the products.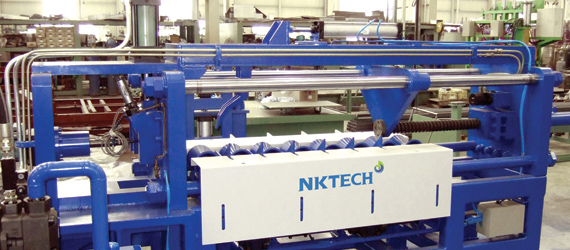 Shot-Blasting Machine
Used to get rid of raw materials and rust or tarnish on the surface of the High Pressure Cylinder to produce high-quality Containers.
When left uncared, it brings decrease in the duration and quality of the product, later could develop into contamination of the production site and problems in surface coloring, and ultimately results in flaws in products and mishaps.
Shot-Blasting requires highly-developed technologies.
not only has become the specialized company in this area but is endeavoring to globalize such technology.
External Shot-Blasting Machine
Scaling and Surface Treating Automatic System using the Shot-blasting machine